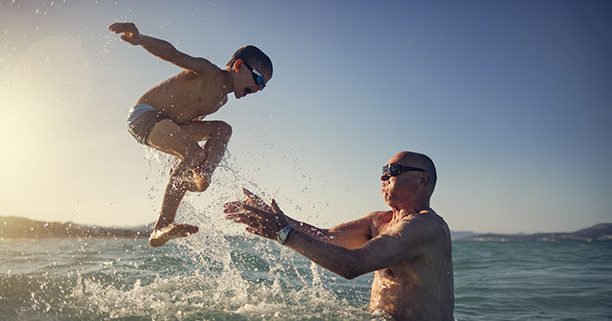 This article originally appeared in The Australian
By 2029, the last baby-boomer (born 1946-63) will have reached retirement age (over 65). This doesn't mean that all boomers will be retired. Of the 5.3 million people over 65, about 545,000 will still be working — that's 10 per cent.
The 65+ cohort will be bigger than ever before, making up 18 per cent of the population (up from 14 per cent in 2019).
Let's explore the big-picture demographics of the Australian retirement market in 2029 and see what financial challenges the four major subgroups will face.
The first group, the lifestylers (55-64), isn't retired yet and tries to prepare for retirement. The group is divided into two camps. Those who are working hard to be able to afford a decent lifestyle in retirement and those who were blessed with successful careers and can enjoy their lifestyle already. The wealthy section of the lifestylers choose how much they want to work. They scale down their work week to four days, play more golf or take long European holidays. Their finances are sorted, and they won't have to compromise on lifestyle in retirement.
The other cohort of lifestylers has bigger challenges ahead. They weren't blessed with high-paying jobs and are trying to sort out their finances with just a few years left in the workforce. They max out their super and save as much as they possibly can. Some might have to postpone retirement. When superannuation was introduced in 1992 the youngest lifestyler of 2029 was only 18 — making this the first cohort to have always contributed to their super account. As of 2029 we will see the full benefits of our national superannuation scheme.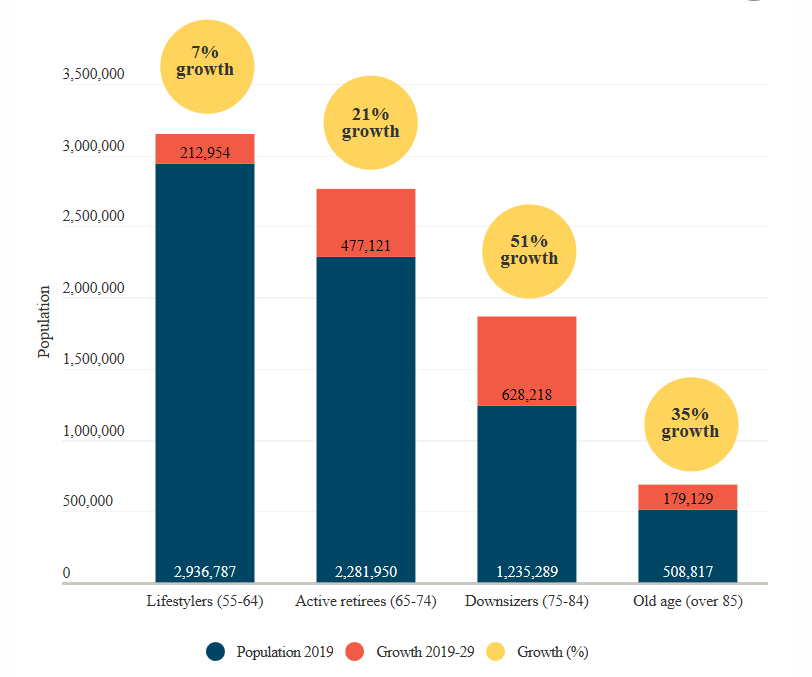 Source: ABS
The second group are active retirees (aged 65-74). Many Aussies won't retire at 65 but stay in the workforce for a few years, decrease their workload and gradually transition into retirement.
With more people holding knowledge jobs rather than physically taxing ones, this proportion is only going to rise. In 2029, active retirees will be made up of the younger half of the baby-boomer generation.
Business will love this cohort for its hunger for lifestyle and well-filled pockets. This cohort is not only big and growing at a decent rate (21 per cent larger than in 2019) but it benefited from the housing boom. Boomer homes are located on what is now very expensive land. If money gets tight, the active retirees cohort will often have the capacity to cash in the family home — a much-needed security mechanism as members of the cohort only started investing into their super accounts when they were aged between 28 and 37.
Our third group, the downsizers (aged 75-84), will grow the fastest (a whopping 51 per cent between 2019 and 2029). This is the older half of the baby-boomers. Downsizers slowly prepare for the old age phase of the life cycle. This includes downsizing their home. Australians didn't downsize nearly as fast as most people predicted but by 2029 the largest birth cohort in Australian history reaches the downsizing age bracket. They can sell the family home (which has been purchased in the 1980s and by now is worth a ton) and move into something that is smaller and accessible. The profit will be used to top up super accounts, spoil the grandkids or assist home purchases of kids who haven't entered the housing market yet. This is where we see the beginning of intergenerational wealth transfer.
Our fourth group deserves the label old age. This isn't meant in a derogatory way. Being 85 years or older, many rely on some sort of care to manage everyday life. In 2029 no baby-boomer has yet reached that group, meaning everyone was born before the end of WWII.
The old age cohort is largely made up of widowed women, often managing the large family house by themselves. It will often take a medical emergency to ensure that members of this generation downsize. The youngest member of this group was already 48 in 1992 when super was introduced. Consequently, many are at the risk of not having put away a large enough nest egg. Intergenerational wealth transfer is in full swing now.
Each of the four major groups faces its share of financial challenges. The best way to ensure you can enjoy your retirement is to get your ducks in order as soon as possible. Superannuation and home ownership will continue to be the preferred ways for Australians to ensure retirement is the enjoyable phase of life that it should be.
SOURCE: https://www.mlc.com.au/personal/blog/2019/05/2029s_four_major_retirement_tribes_and_their_aims