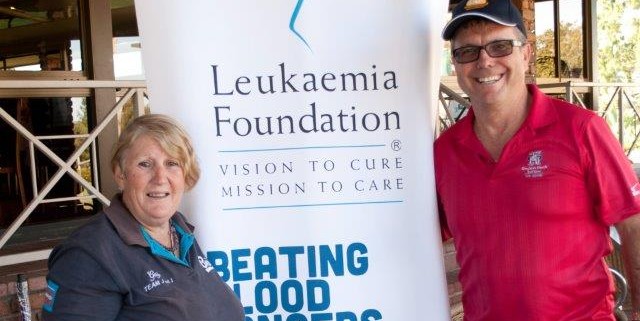 Total Wealth Management $10,000 hole in one Golf Day for
Team J and J  raising funds for the Leukaemia Foundation.
       WIN $10,000
…FOR A HOLE IN ONE on the par 3  — 10th
     The major prize is a round for 4 at Brookwater Golf Club.
Plus   golf prizes -nearest to the pin and longest drive, also raffle tickets sold on the day for prizes including  vouchers,  dinner and  accommodation…
….so why not join us for a game?
Where : Ipswich Country Club,  1 Samford Rd Leichhardt
When : Saturday April 30th
 Time: Normal members from 7 am or
             TWM Teams from 12 pm
Competition : 2 person Ambrose
 Cost : $20 each
  Carts : $25 extra (book with pro Phone: 3812 0488)
Book now by calling Chris Howard on 3281 1226 or by email – chris@totalwealth.com.au
In our 2015 round of grants, the Leukaemia Foundation is investing almost $4 million of donated funds in an  additional 14 promising blood cancer research projects, taking the total number of research projects currently being funded, to 49. A diagnosis of leukaemia, lymphoma, myeloma or a related disorder can have a   dramatic impact on a person's life. At times it can be difficult to cope with the emotional stress involved. The Leukaemia Foundation's support services team can provide you and your family with much needed support during this time. We cherish any support you can provide to us on behalf of the people and the families affected.